The company has a widespread network of storage terminals at 7 major ports in India and 5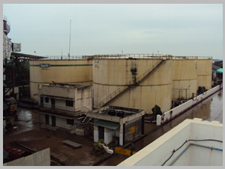 railway siding Terminals. It was the first to construct storage tanks for edible oils in the state of Kerala at Kochi in the year 1996 and since then have constructed around 2 lakhs tons of storage capacity at major ports (Jamnagar, Haldia, Mangalore, Chennai, Kochi, Kandla & Karwar) and 13 tanks having 27,299 KL storage capacity at the railway siding terminals (Kanpur, Doraha, Jaipur, Hyderabad & Cuttack).

Company port based terminals have separate pumps and pipelines that can be operated round the clock and does not require port or customs permission for deliveries even on Sundays / Holidays.

PRODUCTS HANDLED BY US:

The major products handled are Edible oils, fatty Acid, Caustic Soda Lye, Phosphoric Acid, Sulphuric Acid, Carbon Black Feed Stock, 2- Ethyl Hexanol, Molasses etc.
OUR EXPERIENCE IN THE FIELD:

We have profound experience in ship handling for more than a decade in both imports and exports arena and have storage facilities to store over 0.2 million Metric Tons quantity of product. In the present scenario, "RUCHI" handles on an average 4,000-5,000 MT of cargo in either of its installations every day and so far more than 2000 tankers (ships) have been handled.
OUR STRENGTHS:
A strong infrastructure of tank terminals.
Experienced and well-trained staff
Recognisable quality through RUCHI'S adherence to the highest industry standards.
A strict policy regarding safety, health and environment.
A strong track record in terms of strategic alliance with third parties.
RUCHI'S development of integrated logistic concepts based on tank storage.
RUCHI'S strategy concentrates on further expanding and optimising its network of tank terminals, providing specialist logistic concepts and entering into strategic alliances that provide related logistic services.
OUR COMMITMENTS ACHIEVEMENTS:

The floating pipeline, our own jetty, are just examples of the company's commitment to providing its customers with highly efficient and time sensitive service. Our strong Human Resources Development department and the team of techno-commercial professionals are highly research-oriented and ready to explore the probabilities to excel in the stage of liquid cargo storage and handling. We are committed to bringing out the best in our people to achieve their full potential, which is demonstrated by our zero tolerance for incidents.

The art of excellent modified technology in the field of construction of Tank farms and Refinery establishments are the group's extreme achievements. An active and enthusiastic team of technocrats has brought the glory of the organisation to the international level. This is due to the scope of the modern state of the art and technology dwelling in infrastructure, as a result the circumstance of the group's profile is highly praise-worthy among all our traders.

Based on its perennial successful work experience in vessel handling, railway rake operations and round the clock service orientation to its leading customers, it is the achievement of this organisation that led to migrate out technology to foreign countries.
SCOPE OF BUSINESS:

Since Ruchi's commencement of tank farm business and after a successful run in a span of 10 years, we visualize and to expand up to 5,00,000 KL storage facility from 2,00,000 KL in the next 3 yrs from now. The expansion would take place in two forms viz., modification of the existing set ups and building new terminals at different locations across Pan India and abroad.

In order to fulfill our dream, Ruchi has already procured land at various ports and is in process of procuring land further at different locations for building terminals of world-class standards.

Keeping in view the requirement of terminals to store indigenous and exclusive products that are to be kept in a safe condition, we would move on to create tailor made set ups to meet customer's specific requirements. We can construct such dedicated facilities and offer the same on a long-term basis on mutual understanding.

As of permissions, licenses and approvals required from the government in order to store classified as well as unclassified products, we can obtain the same, providing our customers with full security and safety and meeting all obligatory norms.


RIL'S VALUED CUSTOMERS :
Corporates such as

Hindustan Lever Ltd
Tata Chemicals Ltd
Philips Carbon Black Ltd
Hy Tech Carbon Ind. (Aditya Birla Group)
KLJ GROUP
Nepal Lever Ltd
Vienergy International Ltd.

and many other Indian and Nepalese reputed firms have been using the company's storage facilities at various ports, besides our group companies.