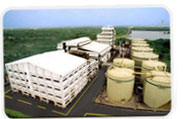 The company has a widespread network of storage terminals at 7 major ports in India. It was the first to construct storage tanks for edible oils in the state of Kerala at Kochi in the year 1996 and since then have constructed around 1.5 Lakh KL of storage capacity at major ports (Jamnagar, Haldia, Mangalore, Karwar, Chennai, Kochi & Kakinada).
Company port based terminals have separate pumps and pipelines that can be operated round the clock and does not require port or customs permission for deliveries even on Sundays / Holidays.
PRODUCTS HANDLED BY US:
The major products handled are Edible oils, fatty Acid, Caustic Soda Lye, Phosphoric Acid, Sulphuric Acid, Carbon Black Feed Stock, 2- Ethyl Hexanol, Molasses etc.
OUR EXPERIENCE IN THE FIELD:
We have profound experience in ship handling for more than a decade in both imports and exports arena and have storage facilities to store over 0.15 million KL quantity of product. In the present scenario, "RUCHI" handles on an average 3,500- 4,000 KL of cargo in either of its installations every day and so far more than 4000 vessels (ships) have been handled.
OUR STRENGTHS:
• A strong infrastructure of tank terminals.
• Experienced and well-trained staff
• Recognisable quality through RUCHI'S adherence to the highest industry standards.
• A strict policy regarding safety, health and environment.
• A strong track record in terms of strategic alliance with third parties.
• RUCHI'S development of integrated logistic concepts based on tank storage.
• RUCHI'S strategy concentrates on further expanding and optimising its network of tank terminals, providing specialist logistic concepts and entering into strategic alliances that provide related logistic services.
OUR COMMITMENTS ACHIEVEMENTS:
Dedicated pipeline from berth to our installation, our own jetty, are just examples of the company's commitment to providing its customers with highly efficient and time sensitive service. Our strong Human Resources Development department and the team of techno-commercial professionals are highly research-oriented and ready to explore the probabilities to excel in the stage of liquid cargo storage and handling. We are committed to bringing out the best in our people to achieve their full potential, which is demonstrated by our zero tolerance for incidents.
The art of excellent modified technology in the field of construction of Tank farms and Refinery establishments are the group's extreme achievements. An active and enthusiastic team of technocrats has brought the glory of the organisation to the international level. This is due to the scope of the modern state of the art and technology dwelling in infrastructure, as a result the circumstance of the group's profile is highly praise-worthy among all our traders.
Based on its perennial successful work experience in vessel handling, railway rake operations and round the clock service orientation to its leading customers, it is the achievement of this organisation that led to migrate out technology to foreign countries.
SCOPE OF BUSINESS:
Since Ruchi's commencement of tank farm business and after a successful run in a span of 20 years, we visualize and to expand up to 1.75 Lakh KL storage facility from existing 1.5 Lakh KL in the next 3 yrs from now. The expansion would take place in two forms viz., modification of the existing set ups and building new terminals at different locations across Pan India and abroad.
In order to fulfill our dream, Ruchi has already procured land at various ports and is in process of procuring land further at different locations for building terminals of world-class standards.
Keeping in view the requirement of terminals to store indigenous and exclusive products that are to be kept in a safe condition, we would move on to create tailor made set ups to meet customer's specific requirements. We can construct such dedicated facilities and offer the same on a long-term basis on mutual understanding.
As of permissions, licenses and approvals required from the government in order to store classified as well as unclassified products, we can obtain the same, providing our customers with full security and safety and meeting all obligatory norms.
RIL'S VALUED CUSTOMERS :
Corporates such as
 Hindustan Lever Ltd.
 Tata Chemicals Ltd.
 Philips Carbon Black Ltd.
 Hi-Tech Carbon Ind. (Aditya Birla Group)
 KLJ GROUP
 Nepal Lever Ltd.
 Vienergy International Ltd.
 Himadri
 Indorama
 Indorama
 Ruchi Soya Industries Ltd.
 Adani
 Emami
 KTV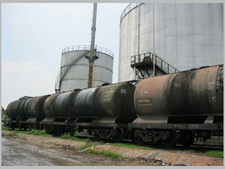 and many other Indian and Nepalese reputed firms have been using the company's storage facilities at various ports, besides our group companies.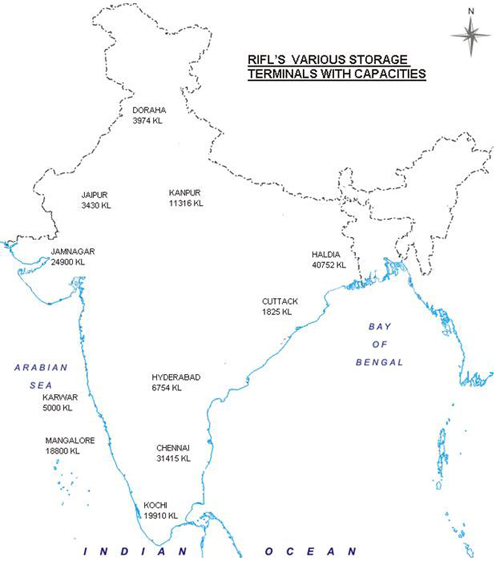 JETTY>>
Company has set up its own Jetty at Rosy pier in Jamnagar, Gujarat for handling liquid cargo as well as dry cargo with full-fledged testing laboratory and material handling system. The Jetty is well equipped to handle around 6 lakh tons of dry cargo per year. The process of expanding the capacity to 1 million tons of dry cargo per year is under progress.
AGRIWAREHOUSING >>
Agriculture is the back-bone of the Indian economy which contributes a major share of the national income. Due to successful research and extension in agriculture, there has been a phenomenal growth in the production. In order to cope up with the increase in production it became necessary for an effective food management system in the country and have proper infrastructure to store surplus produce for the welfare of mankind especially at the time of shortage of essential food items.
RIL diversified into agri-warehousing business in 2008 and emerged as the largest private entity having more than 2.5 lakhs tonnes of storage capacity in 22 strategic locations of Madhya Pradesh, an agriculturally important state in India.
FEATURES OF RIL'S AGRI-WAREHOUSES: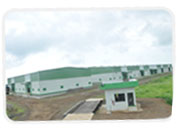 RIL adopted innovation and information technology as the core strategy in all its strategically developed warehouses to retain its position as the one-stop shop for sourcing agri-commodities from Indian farming community. RIL's underlying efforts shows its commitment to the farming community in providing various comprehensive range of value-added services:
• Providing state of art international standard warehouses with average capacity of more than 12000 MT at each location.
• Electronic weighbridges at each location having capacity 50 MT.
• All weather road connectivity to NH / SH & Rail connectivity.
• Totally secured warehouse with boundary wall & gates. Assured protection from insects/pests/rodents.
• Plinth level is as per scientific standard to avoid any seepage from the ground & expected losses.
• Ridge ventilators are as per food safety standards & post harvest handling norms helps in quality retention of the produce.
• Partitions available in each warehouse.
• Warehouses are well equipped with fire fighting equipments.
• Road available on all four sides of the warehouse for easy movement of trucks.
• Loading & Unloading docks are available with canopy on top.
• Lighting arrangements with power back up facility in each location.
• Round the clock security.
• Each warehouse is managed by competent & technically trained professionals.
RIL'S OFFERINGS & SERVICES: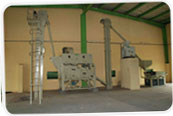 RIL's services reflect its in-depth understanding of largely fragmented and unorganized Indian agricultural markets. RIL has provided a sustainable solution to the crop marketing problems that beset Indian farmers. The Agricultural Warehousing and Agri Marketing Infrastructure Projects set up by RIL has facilitated linking farmers, processors, consumers, supply chain solution providers and other stakeholders and ensured smooth flow of trade with minimal operational and logistics costs. By eliminating the middlemen, RIL has connected farmers with reliable crop markets, eased the flow of produce from farms to commercial buyers and processors. RIL under mentioned portfolio of services is structured to enhance the overall competitiveness of the agricultural sector and agri-based industries while creating value for the farmer:
• Availability of modern & updated sorting, grading & cleaning machine for different grade wise segregation of Agri-commodity as per standards.
• Availability of electronic weighbridges at each location.
• Facility of quality control lab for quality checks of agri-produce.
• In-house skills have been developed for modern post harvest management & handling operations of agri-commodities.
• Maintaining entire data base for rake movement, carry forward stocks, sowing & production status of important food crops.
• Having tie-up with both the government & the private agencies for their storage requirements.
• Warehouse receipt based pledge finance facility to the farmers/customers.
RIL'S VALUED CUSTOMERS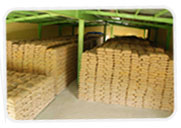 • Government agencies like MPWLC (Madhya Pradesh Warehousing & Logistics Corporation), FCI (Food Corporation of India), MP State Civil Supplies Corp. ltd., CCI (Cotton Corporation of India ltd) etc. • Private parties like ITC, Olam, Cargill, General Mills, Agri Link etc. • Local Farmers & Traders.
LOCATION OF RIL'S AGRI BUSINESS HUBS:
Your Company has set up agricultural warehousing centers at Neemuch, Mandsaur, Ratlam, Dhar, Ujjain, Indore, Khandwa, Dewas, Shajapur, Sehore, Harda, Guna, Ashok Nagar, Vidisha, Ganj Basoda, Betul, Sagar, Chhindwara, Damoh, Seoni, Katni and Satna in the state of Madhya Pradesh.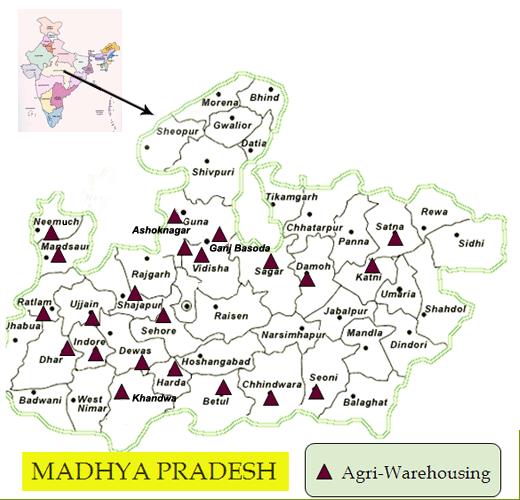 REAL ESTATE>> TOWNSHIP DEVELOPMENT / COMMERCIAL & RESIDENTIAL PREMISES>>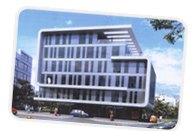 Growth in Infrastructure is critical for the rapid economic growth of India. The company has engaged itself in this direction of growth by showing more active participation in Real Estate business / township development / commercial & residential premises.