Agriculture is the back-bone of the Indian economy which contributes a major share of the national income. Due to successful research and extension in agriculture, there has been a phenomenal growth in the production. In order to cope up with the increase in production it became necessary for an effective food management system in the country and have proper infrastructure to store surplus produce for the welfare of mankind especially at the time of shortage of essential food items.
RIL diversified into agri-warehousing business in 2008 and emerged as the largest private entity having more than 2.5 lakhs tonnes of storage capacity in 22 strategic locations of Madhya Pradesh, an agriculturally important state in India.

FEATURES OF RIL'S AGRI-WAREHOUSES: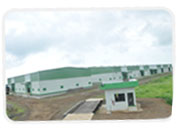 RIL adopted innovation and information technology as the core strategy in all its strategically developed warehouses to retain its position as the one-stop shop for sourcing agri-commodities from Indian farming community. RIL's underlying efforts shows its commitment to the farming community in providing various comprehensive range of value-added services:
Providing state of art international standard warehouses with average capacity of more than 12000 MT at each location.
Electronic weighbridges at each location having capacity 50 MT.
All weather road connectivity to NH / SH & Rail connectivity.
Totally secured warehouse with boundary wall & gates. Assured protection from insects/pests/rodents.
Plinth level is as per scientific standard to avoid any seepage from the ground & expected losses.
Ridge ventilators are as per food safety standards & post harvest handling norms helps in quality retention of the produce.
Partitions available in each warehouse.
Warehouses are well equipped with fire fighting equipments.
Road available on all four sides of the warehouse for easy movement of trucks.
Loading & Unloading docks are available with canopy on top.
Lighting arrangements with power back up facility in each location.
Round the clock security.
Each warehouse is managed by competent & technically trained professionals.
RIL'S OFFERINGS & SERVICES:
RIL's services reflect its in-depth understanding of largely fragmented and unorganized Indian agricultural markets. RIL has provided a sustainable solution to the crop marketing problems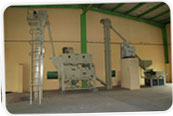 that beset Indian farmers. The Agricultural Warehousing and Agri Marketing Infrastructure Projects set up by RIL has facilitated linking farmers, processors, consumers, supply chain solution providers and other stakeholders and ensured smooth flow of trade with minimal operational and logistics costs. By eliminating the middlemen, RIL has connected farmers with reliable crop markets, eased the flow of produce from farms to commercial buyers and processors. RIL under mentioned portfolio of services is structured to enhance the overall competitiveness of the agricultural sector and agri-based industries while creating value for the farmer:


Availability of modern & updated sorting, grading & cleaning machine for different grade wise segregation of Agri-commodity as per standards.
Availability of electronic weighbridges at each location.
Facility of quality control lab for quality checks of agri-produce.
In-house skills have been developed for modern post harvest management & handling operations of agri-commodities.
Maintaining entire data base for rake movement, carry forward stocks, sowing & production status of important food crops.
Having tie-up with both the government & the private agencies for their storage requirements.
Warehouse receipt based pledge finance facility to the farmers/customers.


RIL'S VALUED CUSTOMERS
Government agencies like MPWLC (Madhya Pradesh Warehousing & Logistics Corporation), FCI (Food Corporation of India), MP State Civil Supplies Corp. ltd., CCI (Cotton Corporation of India ltd) etc.
Private parties like ITC, Olam, Cargill, General Mills, Agri Link etc.
Local Farmers & Traders.


LOCATION OF RIL'S AGRI BUSINESS HUBS:
Your Company has set up agricultural warehousing centers at Neemuch, Mandsaur, Ratlam, Dhar, Ujjain, Indore, Khandwa, Dewas, Shajapur, Sehore, Harda, Guna, Ashok Nagar, Vidisha, Ganj Basoda, Betul, Sagar, Chhindwara, Damoh, Seoni, Katni and Satna in the state of Madhya Pradesh.